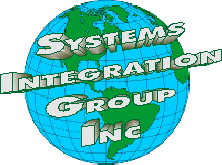 Our Goal Is to Make Your Technology Work !
SIGI's clients span a number of industries and sizes. They span in size from the two station peer-to-peer network to a multi-national WAN.
The common thread among our clients is the need for impartial and expert service.
The MIS staff of our largest client, a European based multi-national insurance company, relies on SIGI to support their New York and Chicago offices.
SIGI doesn't sell the hardware,
SIGI doesn't sell the software
SIGI makes it work !
Check out some of our work............